The right skateboarding shoes for women are comfortable and fit right. They should also offer a good grip on the skateboard while providing adequate shock absorption injury prevention.
Since there is a wide range of skateboard shoes on the market to choose from, it can be difficult to determine which is right for you. This article will discuss the fundamental characteristics of skateboarding shoes and how they impact the durability, shock absorption, flexibility, fit, and style.
In addition, it will provide you with 6 tips to help you choose the right skateboarding shoe.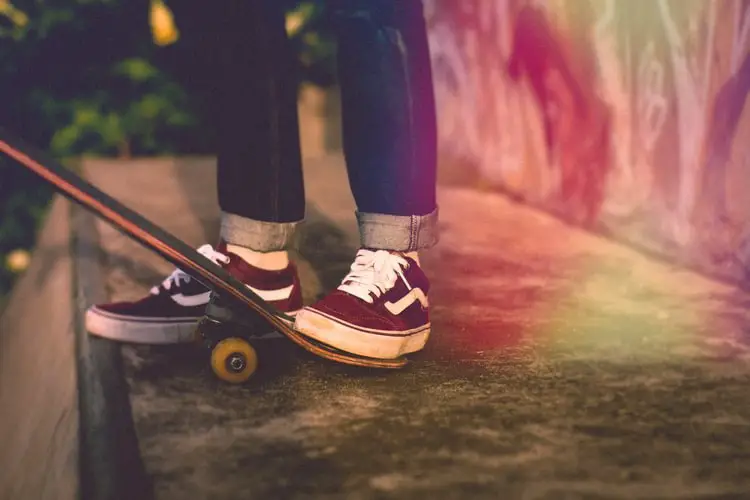 6 Tips to Consider When Buying Skateboarding Shoes for Women
Cupsole vs Vulcanized Skateboarding Shoes
Skateboarding shoes can be broadly categorized according to their outsole construction as either cupsole or vulcanized. The main difference is that the rubber used to make vulcanized outsoles goes through oven heat treatment while cupsole shoes do not.
Vulcanized shoes are slim, lightweight, and flexible. They offer a light, casual feel for everyday wear. They are designed to offer you great control when doing board tricks such as grinds and slides. Although they offer excellent maneuverability, they are not adequately cushioned. Therefore, they may not be the best option if your heels bruise easily when skateboarding.
On the other hand, cupsoles are heavier and  more generously cushioned. They are made of textured, thick, and hard rubber. They have a one-piece rubber sole design with stitching at the edge. The thick rubber makes the shoe feel stiff but also provides adequate heel support. They are designed for high distance jumping or aerial performance during skating and offer better impact absorption.
Choose Durable Shoes
The toe area, side of the foot, and sole are most prone to wear and tear for skateboarding shoes. As such, the materials used to make the shoe's upper and sole make a big difference in the shoe's durability. Other factors such as whether the shoes have underlays, toe caps, ollie patches, and shoelace protectors also affect the shoe's durability
Upper Material
There is a wide range of materials used to make skateboarding shoes' upper, including canvas, suede, leather, mesh, and synthetic textiles.
Suede is the most preferred skateboard shoe material. It is durable and offers a comfortable fit for optimal performance. In addition, it holds up well when doing different types of board tricks.
Canvas is less durable than suede. It is also more likely to rip when doing tricks such as ollies and flips. So, unless there is rubber enforcement in the highest wear areas, it is best not to skate with shoes made of canvas as the primary upper material.
Leather is more durable than canvas. It is tough and smooth and can withstand high impact. However, it may feel more stiff and slippery, especially when doing flips and tricks. But, once you get used to it, it will feel just like a suede shoe.
The durability of shoes made with synthetic textiles depends on the particular material used. For example, TPU and rubber are quite durable, while mesh and knit materials are not. However, it is ok if you have a bit of mesh or knit in the low wear areas of the shoe, such as the tongue or the medial side.
Underlays
Some manufacturers make their shoes with a rubber layer underneath the upper material to extend the shoe's durability. Different manufacturers refer to these underlays by different names. For instance, Van refers to them as Underlay Duracap, and Lakia calls the underlay Co-Bound, while Adidas calls their AdiTuff.
Therefore, when shopping for skateboarding shoes, be sure to check its specifications to ascertain whether it has an underlay. Whenever possible, go for pair that has underlays.
Toe Caps and Ollie Patches
Skateboarding shoes with toe caps and ollie patches have a longer lifespan than those without. Rubber toe caps provide additional grip when doing flip tricks but may make the shoe feel heavier. Printed toe caps provide durability without the excessive grippy feeling. They feel like suede shoes.
Stitching
Pay keen attention to where the stitching and panels come together. These tend to be vulnerable spots where the shoe tears apart with continued exposure to impact. Shoes with a single-piece toe box wear more evenly. To extend its lifespan, glue the stitches before they start to come apart.
Outsoles
The durability of outsoles is affected by factors such as whether the shoe is cupsole or vulcanized, the quality of gum rubber, and the depth of tread.
Cupsole shoes have a thicker rubber outsole than vulcanized shoes, so they last longer. In addition, since they are constructed as one piece, they are less likely to come apart compared to vulcanized shoes which are layered.
It is standard for skate shoes to have gum rubbers for optimal grip. The gum rubber also enhances the durability of the outsole. Some manufacturers use specialized rubber in the outsole for enhanced durability.
For instance, Lakai skateboarding shoes have Paramount rubber while New Balance skateboarding shoes have NDurance soles. Check if the skateboarding shoes you are considering have a special rubber compound outsole to enhance their durability.
Shoes with deeper grooves in the tread not only offer good grip but are also more durable. In addition, the soles take longer to develop bald spots. If you have lace skateboarding shoes, the laces and lace holes tend to wear out first. Therefore, consider shoes with reinforced lace hoes or lace protectors.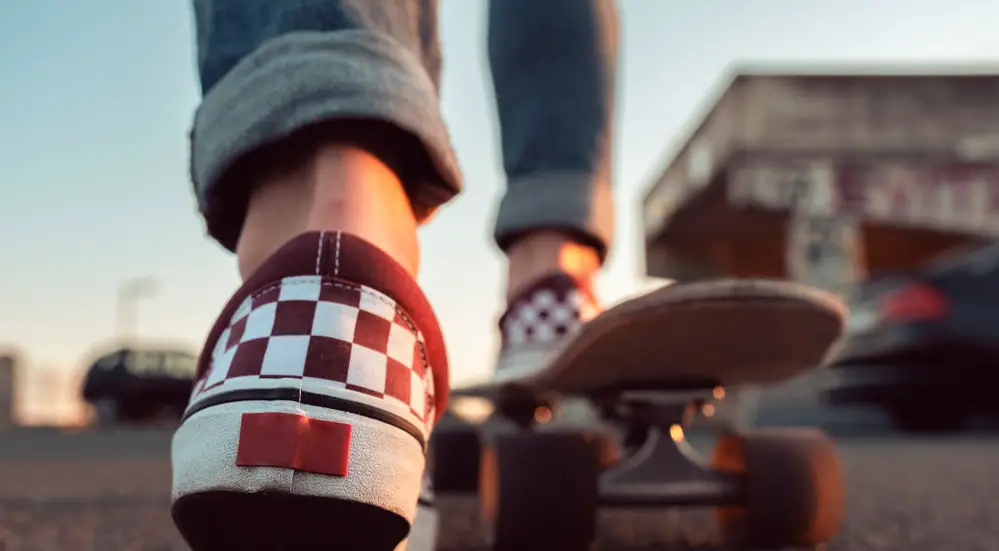 Go for Shoes That Offer Adequate Impact Support
Skating is a high-impact sport. Therefore, your skateboarding shoes must provide you with adequate impact support to prevent joint injury even with years of skating. If you are going to be jumping guard rails and staircases, you need as much shock absorption as possible. When thinking about impact, consider impact support and heel support.
Cupsole shoes offer better shock absorption than vulcanized shoes. They have more built-in midsoles and outsoles for impact protection. Most manufacturers have developed their own cushioning technology. For example, Vans has Ultacush while Lakai has Delux-Lite.
The quality of foam used in the shoe determines its shock-absorbing ability. EVA provides a fair amount of cushioning but thins out over time. Polyurethane foam does not wear out easily and provides good support.
Vulcanized shoes provide shock absorption through their insoles. Investigate the material used to make the insoles of the skateboarding shoes you are considering. Aftermarket insoles are readily available to replace worn-out insoles or supplement the ones that come with your vulcanized shoes.
Some manufacturers incorporate additional impact support technology, such as airbags on the heels. Others incorporate impact-absorbing compounds or special outsole geometry. If you have flat feet, it is important that you go for shoes that offer as much support as possible. Otherwise, you risk arch pain and lower back pain.
Consider Ankle Protection and Freedom of Movement
Skateboarding shoes can also be categorized as high tops, mid-tops, or low tops, depending on how much ankle protection and freedom of movement they offer.
Low tops are light and offer great freedom of movement. However, the ankles are exposed, which makes you vulnerable to getting hit by the board. As the name suggests, mid-tops are between low tops and high tops. They offer better ankle support than low tops but offer less freedom of movement.
High tops have cushioning above the ankles and provide adequate ankle protection. However, they limit freedom of movement. Also, if you have sweaty feet, they tend to get smelly. This issue can be resolved by going for shoes with sweat eyelets or breathable upper mesh segments in the low-wear areas.
Choose Between Board Feel and Cushioning
Board feel is crucial when skating as it provides better control. You get a clear sense of the position of your foot and better flexibility. However, a good board feel and flexibility come at the cost of padding, cushioning, and impact support.
Vulcanized shoes have thinner soles. Therefore, they provide a better board feel and a shorter break-in period. They are the best option for low-impact skating techniques such as flat ground, manuals, and ledges. Cup soles are thicker and require a longer time to break in. You can still do low-impact skating, but you must also brace for the longer break-in time.
A Good Fit is Crucial
Your skateboarding shoes should fit snugly and comfortably. A snug fit ensures that the shoes do not come off when doing tricks. You also get a better board feel, flexibility, and control. Besides, extra space around the toes may make your flips feel wobbly.
The shoe should fit such that your foot feels one with the shoe rather than as an extension of your foot. It is best to try out different shoe profiles and toe shapes to determine a good fit for you.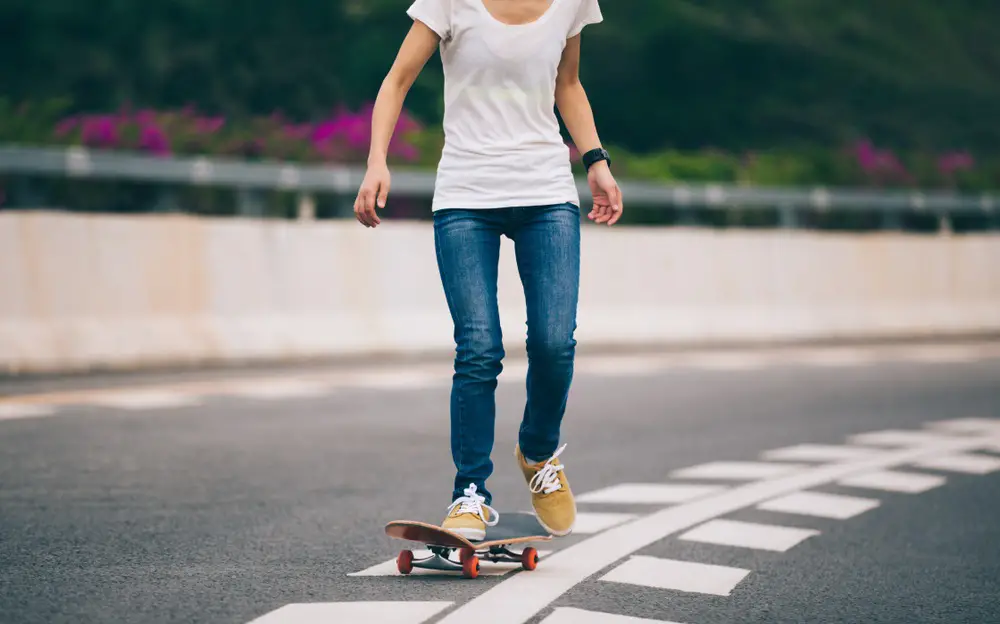 Different shoes offer different fits. Some have a bootie style who's upper holds your foot snugly. Others come with an internal sleeve that holds your foot securely. Furthermore, some are slip-ons, while others have shoelaces.
The good thing with slip-ons is that you do not have to worry about breaking laces. As long they are the right size, the fit is snug. A good alternative for laces are Velcro straps, as they offer a hassle-free means of tightening or loosening up the shoe's fit.
Get the right skateboarding shoes for your type of feet. Any given skating shoe fits differently on different types of feet. If you have wide feet, go for a shoe that has a wider profile. The inside of the shoe should not push against the sides of your feet or your toes. Conversely, if you have narrow feet, wider shoes will leave too much space.
You will know you have a perfect fit if there is no pain or discomfort when wearing the shoe. It should not fit too tightly or too loosely, and there should be no or minimal heel lift.
When buying your skateboarding shoes online, pay attention to the manufacturer's guidelines on sizing. Buy from brands that offer free returns or exchange if the shoe is not a good fit.
Conclusion
There is a wide range of skateboarding shoes for women on the market. Each shoe has its pros and cons depending on its specific characteristics. Find a durable shoe that provides you a good balance of board feel, impact support, and ankle and heel protection, depending on your skating style. Keep in mind that you will not get all the characteristics you may be looking for in one shoe.
Therefore, determine which characteristics are most crucial for you and which ones you can sacrifice. Ultimately, you may need to invest in more than one pair of skateboarding shoes to suit your different skating styles.