Riding a scooter should be a part of every child's memory.The Razor A5 LUX Kick Scooter might not be the fanciest scooter on the market, but Razor did an incredible job of giving this scooter the best performance and quality.Razor A5 features an aircraft grade aluminum deck that provides a sturdy feeling whenever you ride the scooter. In fact, it is tough enough to support 220 lbs of weight capacity or a bit more.What about the performance?We can guarantee that this can live up to your expectations for a kick scooter.The urethane covers of its wheels will give you a smooth run. Plus, the adjustable handlebar makes the Razor A5 a great option even for tall kids or adults.Another excellent feature of this Kick Scooter is the great quality of its rear fender foot break that's simple, and easy to use. It would efficiently works as you'd hope for.Once you've reached your destination or needs a small break from travelling, it also has a neat little kickstand on stand by.
What's the best thing that we loved about this scooter?The Razor A5 is easy to assemble, and it has a seamless folding mechanism that allows you to carry it around without getting too exhausted. For sure, this is a great value for its price. Imagine, you can buy a kick scooter with excellent quality and top-of-the-notch features.With its impressive built, you can expect to get years of fun outdoors from an all-around kick scooter that perfectly fits kids, teens and adults.
Are You In A Hurry? Our Top 3 Reasons To Buy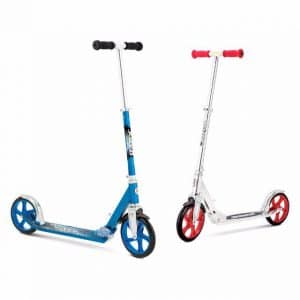 OUR RATING
Razor A5 LUX Kick Scooter
Why is it the BEST?
Made from highest quality materials that give it extra toughness, and support riders up to 220 lbs.

It features extra large wheels with urethane covers that provide a smooth and comfortable ride.

The combination of handlebars with soft foam grips and Rear-fender brake makes it easier to maneuver.

It has a handle made of aluminum T-tube and a larger deck that can support either tall or small riders due to its adjustable height.


20
RESEARCHED SOURCES

118
REVIEWS CONSIDERED

30+
HOURS RESEARCHING
Razor A5 LUX Kick Scooter Video Reviews
NYCeWheels Review
Video Transcription
hi there miles from nice wheels I'm excited to be showing off today you razor a five adults scooter the guy right here in this box the scooter comes fully assembled and ready to go from the box so you can get rolling as soon as you open it up check it out easy as that day five is really easy to assemble and unfold just put the handlebars into place pull this quick-release lever and air up and ready to scoop it's a quick-release system on the handlebar stem you can also adjust the height using that quick-release system to whatever height you need so there's a great scooter for riders of all ages anyone looking to be scooting along with their parents maybe somebody else in the family who has already got a nice kick pad or a suitor this could be a good companion scooter for one of those you know I add one of the original razors when I was a kid and I remember those tiny wheels I would go flying off of all the cracks in the pavement so there's a problem that the a5 definitely addresses with these nice big easy rolling wheels I found they just go right over cracks without much of an issue at all but they're still thin enough that you can get the next speed going if you're a speed demon some other nice little touches it has its own kickstand pretty amazing thing you don't get that on many thick scooters these days this is a scooter that uses a very simple fender brake system what's nice about this is it's completely foolproof you just step right down onto that fender and it stops you on a dime as you can see just a really beautiful package I'm going to go for a little ride you
theWZZA Review
Video Transcription
hi I want to do a review of the razor a 5 Lux scooter ok so first of all the handlebars there's little buttons that go into holes in the handlebars day they take apart for storage to make it more compact alright I'm just going to quickly go through the standard features and then hopefully show you a few things you haven't seen before the wheels are eight inch wheels and they're polyurethane this is a brake I actually never use this brake the locking mechanism is here it's a simple pull it down and it releases okay so there's also a kickstand right I actually never use the kickstand I might take it off because it seems to bump into things one feature nobody ever talks about is this screw right here okay so this screw you could turn with an allen wrench and what it does is it takes up the slack in this joint there's always going to be a little bit but if there's a lot of slack you can turn this screw in to take up to contact the bottom edge of this of the neck here some scooters come with a carrying strap here there's no carrying strap so I extend the handlebars I have the platform in front of me and I just put the handlebar on my shoulder so like this it's actually quite compact I'm not taking up a lot of extra space so if I'm on a crowded train this is how I'll carry the scooter one of the nice features about this scooter is that the deck is nice and low to the ground because this angles down this fork here angles down and makes the platform close to the ground so the result of that is you don't have to do as deep of a knee bend when you're kicking alright a tip about kicking when I kick I kick like this with with the ball of my foot okay I found that I start out kicking with my foot flat that put a lot of strain on my Achilles heel so now I kick like this with the front of my foot so I mentioned about stopping before so to stop you could step on the brake but I just basically put my foot down and slow myself down multiple times or I could just skin with the bottom of my foot like a skateboarder does so I have size 13 feet I just want to show you that there's a room on the platform for my size 13 feet you can see there's not a lot of width here okay and I'll show you where I put my other foot if I just want to coast I put it right here in the space you know there's kind of a natural space right near the arch of your foot for the other toe so I want to talk about the scooter versus something like these de Haan folding bikes compare all our non driving options for traveling we have walking scooter and folding bike right so scooter costs about $80 right now folding bike would be 450 and up so that's a significant difference as far as speed is concerned scooters about twice not quite twice as fast as walking and then bike is twice as fast as scootering okay so in 30 minutes which is you know kind of the the time I'd like to spend traveling and not much more than that I can go a mile and a half or just under three miles or five miles depending my option that I choose most places I need to go where I live are between one to three miles away so this is scooter hits a sweet spot for me okay so then maintenance right you don't need any for walking maybe new shoes every so often scooter is pretty much no maintenance later down the line I'll have to change wheels or bearings but not right now and then here's where is a big thing for me a bike needs you to keep air in the tires I have to oil the chains the brake pads wear out you got to adjust those and then flat tires I'm absolutely sick of doing that after ten years of riding bikes I don't want to deal with another flat tire alright so walking there's nothing to carry scooter is small enough and light enough it goes almost anywhere it weighs 8 pounds it's not a hassle to carry folding bike pretty bulky if you fold it up completely it's like the size of a piece of luggage and it weighs 30 pounds and a lot of the times you need to lock it outside which means you need to carry a lock all right as far as comfort you know walking I enjoy but it definitely you know you work up a sweat it's work but it's good for you alright so scooter is less effort than walking all right but it's still you know depending on how much you want to push it you could definitely get a workout it can be bumpy alright scooters happiest on concrete where it's nice smooth and hard when you're on asphalt if it's old it could be really bumpy and noisy and all that chatter is losing energy and it's more effort for you to go the same distance any type of Hill on the scooter you're gonna notice it's gonna be a lot more work so I actually wouldn't you know if I live in a hilly area I don't recommend the scooter and then on a scooter because the wheels are eight inches in diameter if you hit a significant bump you're gonna do a header over the handlebars okay so you constantly have to be vigilant and it's not necessarily a relaxing experience unless you're on a nice paved trail that's in great condition so a folding bike it's nice to have gears for hills and the seated position is comfortable but standing on the scooter is nice as well it gives you like a great view of everything so ride carefully everybody and thanks for watching my video
Reviewski
Video Transcription
hey guys this is review ski kicking off 2016 with a bang today I'll be doing a review of the eraser a5 luck scooter the reason why I got this is because my old one was way too small for me but this fits perfectly I'm around 5 foot 9 so if you're around that height then this will fit you very well I got this nice teal color but there was also a red / silver option as well the color adds a nice touch to the scooter rather than it being the plain silver than my old one was the wheels are pretty big and the teal color from the body of the scooter carries on over to the inside of the wheel it can fold up to be more portable than it was regularly but it's still not that portable to carry into a store or on a plane a cool feature of the scooter is its kickstand it is very helpful to make it stand up where there isn't a nearby fence to prop it on but it's not that easy to get out with just your foot I found I to reach down and take it out with my hand which by that time I could have propped it up by a nearby wall or something like that so great feature but it could use a little work the handlebars are somewhat comfortable and are plain black it would have been cool if the handlebars were also the same teal color from the rest of the scooter out of the box but if you want you can get replacements online but that's just a minor complaint and not a big deal the brake works well but it sometimes takes a bit longer to kick in that's usually when I've been going faster and slow down the grip tape on the deck helps my flip from sliding off while riding fast and it covers most of where your foot will go yet another improvement from my old one the design on it also adds a nice flare now for the big question how much did this cost I got it for $80 which I think is a reasonable price for a high-quality well sized scooter hopefully you guys enjoyed this review and if you liked it be sure to leave a like comment and subscribe if you haven't already plus follow me on twitter at review ski video Happy New Year everybody be safe take care and have a good one Wow
​I got a scooter
Video Transcription
[Music] [Applause] [Music] [Applause] check it out got myself a scooter it's a racer made specifically for adults like me maybe not so much adults but people of higher stature that are still a kid at heart and it is pretty fun [Music] it even has a kick stick so check this out it's a razor a five bucks is the official model you go rubber tires blue plastic wheels aluminum deck with non-skid coating there foam handlebars that well they pop out for easy storage my son he's got one for Christmas and he's right here on top of the Jeep but now we can ride together that'll be fun you like Daddy scooter yeah pretty fun ain't it yours is cool yours has lots mine don't have lots kind of hard to see you out here and because they're LEDs they might not show up all that great on camera it's got lots here and up here for some reason these only work half the time but mean what can you expect for it Chinese scooter oh yeah the wheels light up too check this out they let go when you're actually moving also it is New Year's Eve and once again it's gonna rain tonight here in East Tennessee so more to come on the scooter here it's pretty cool I'd kind of like to get an electric one just because but if you're an adult and you're looking for a scooter and holy crap it's getting windy look at my little cover here but the razor a5 looks I can recommend it thanks for watching so this was a little man's first scooter it's a three wheeler and it's paw Patrol so that's pretty cool [Music]
Adult Scooter
Review
Video Transcription
hey everybody a lot of you are really going to appreciate this video because I'm testing out a razor a five again checking out my friend's new razor a five scooter right here look at those 200 millimeter wheels really beautiful polished deck there I forgot how cool that looks that polished steel I know I've gotten a lot of views in my previous a five review I was pretty critical of it given the narrow handlebars here especially giving my my 18 inch handlebar mod these 13 inch little kiddy bars feel extremely narrow but nonetheless I'm going to give it a little demo here and tell you what what I think I can get used to this Wow it really is a great ride for me with my shoulder width I still find that the 13 inch handlebars people are much too narrow for my shoulders that's been my main criticism of this scooter all along I know some of you disagree however I would much rather mod this scooter with full 18-inch handlebar with I'm going to put a link in this video to that video to that mob that I did on my razor a4 but if you're getting into an a5 and you're an adult and you've got broad shoulders I highly recommend you doing that mod otherwise I really give this scooter a thumbs up it's amazing the role that you get with each kick is way more than you're going to get with a hundred or 110 millimeter wheel I mean I get I'm just out here impromptu but the deck is really wide definitely ample room there for your foot however I recommend wearing tennis shoes not flip-flops please drop your comments below would be great to hear what you're doing with the razor a5 I'm really psyched to have the opportunity to try this scooter again it would be great to have you as a subscriber to my channel hit that subscribe link above we will see you real soon
Final Words
The Razor A5 LUX Kick Scooter has been popular by most teenagers for some impressive reasons.
If you're an adult who's looking for another 'healthier' mode of transportation, then this scooter is something to be considered. It's an scooter for all ages.It's tried and tested easy to use, convenient, and offers a smooth ride.
With the Razor A5, you get a new recreational hobby with some exercise.