The first step on your skateboarding journey is finding the right skateboard. However, you may be wondering: how much does a skateboard cost? Do you need to buy the expensive skateboard you find to get good quality, or can you start with a cheaper skateboard option as you familiarize yourself with the sport?
This article will discuss how much skateboards cost and the steps for choosing the right one.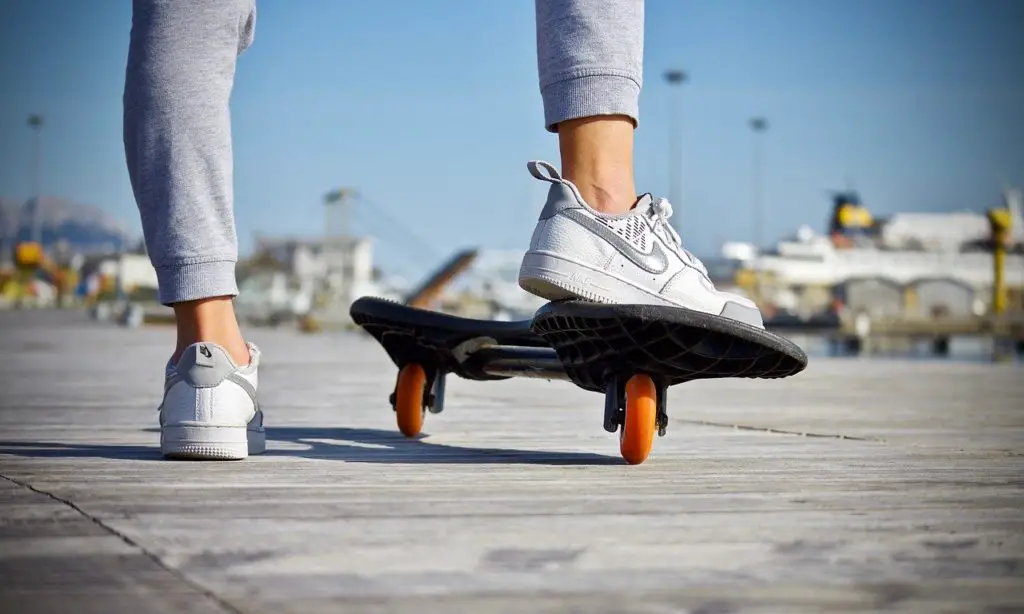 How Much Does a Skateboard Cost?
The cost of a skateboard ranges between $20 and $400. However, the price varies depending on factors such as type of skateboard, brand, quality, and where you buy. It also varies depending on whether you purchase a complete board or a custom board. Some customizations are cheaper, while others are costlier depending on the components you want and use.
Typically, kids' skateboards are the cheapest. They cost $20-$50. Mid-quality skateboards cost between $40 and $70. They are a great beginner skateboard option for those who want to test out the sport before fully committing. Classic skateboards are multipurpose and of good quality. Their price ranges between $60 and $400.
Popular brands tend to be more expensive. However, a higher price is not always an indication of a high-quality skateboard. Check product reviews and buying guides (like our list of the Top Skateboard Brands) to find out if the particular skateboard you are interested in is reliable. Like any other product, you may find that the price of a given skateboard is marked up in one store and marked down in another store.
To get the best value for your money, determine how much you are willing to spend on a skateboard. Then, shop diligently to find one that delivers the best features, as per your needs, within your budget range. With that said, do not go for the cheapest skateboard on the market. Chances are, they are low quality and will end up breaking after a few uses.  To find
How to Choose the Right Skateboard
Below is an easy-to-follow step-by-step process for choosing the right skateboard.
Decide on the Type of Skateboard to Buy
Skateboards are categorized broadly into three categories: longboard skateboard, cruiser, and mini-cruisers.
A longboard skateboard is 33-inches or longer. They are ideal for transport or cruising around. They offer great maneuverability and stability even for beginners. A longboard skateboard provides a smooth ride even on rough ground and when doing big swooping turns. On the downside, they are not the best for tricks and flips and are cumbersome to carry around.
Cruiser skateboards are slightly shorter than longboards. As the name suggests, they are designed for moving from one point to another. They are also more portable than longboards, as most fit inside a standard backpack. On the downside, they are not adequately stable for most beginners. They are also not suitable for fast rides, tricks, or flips. Mini-cruisers are smaller cruisers designed for kids.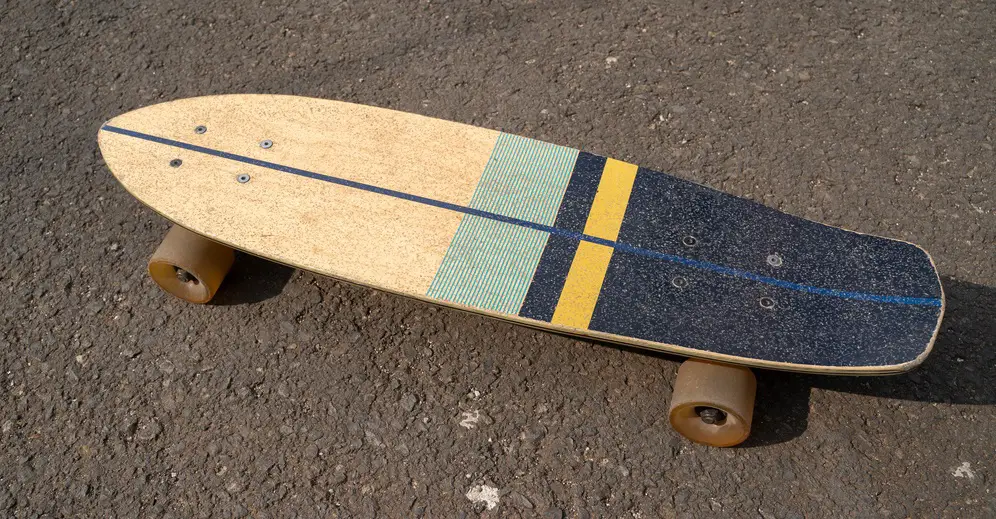 Another factor to consider regarding the type of skateboard is the shape of the skateboard. The most common shape is the radical concave characterized by higher edges than the rest of the skateboard.
However, there are other shape options, including progressive, flat cave, convex, and asymmetrical. For your first skateboard, go for the radical concave. It offers good balance and maneuverability as you learn how to skate.
Determine the Right Size Skateboard
The size of a skateboard refers to its width. The right width provides excellent control and maneuverability. It is a factor of your shoe size as well as preference. Below are the skateboard deck width recommendations for different shoe sizes.
| | |
| --- | --- |
| Shoe Size | Skateboard Deck Width |
| 6 or smaller | 7" or less |
| 6-8 | 7"-7.5" |
| 9 and above | 7.5" |
When choosing a good skateboard within the provided range, keep in mind that a wider width is more stable and provides better landing, but it will spin slower and require more effort when doing flips and other tricks. On the other hand, narrower decks spin faster and are better suited for flip tricks but may also provide less stability.
Decide Between Complete and Customized Skateboard Build
A complete skateboard comes pre-built with all components. Therefore, it is the best option for a beginner. On the other hand, you can purchase a customized skateboard or have a skateboard company custom-build one for you.
When you choose a customized skateboard, you buy all the components separately according to the functionality you are looking for or your preferences. You need to have a good understanding of the various parts, e.g., skateboard wheels, skateboard bearings, board, skateboard truck, and skateboard deck, as well as what size and specifications you may want to watch for.
Decide Where You Will Buy Your Skateboard
You can buy your skateboard from a local store or online. Buying at a local store gives you a chance to feel the physicality of the board and maybe try it out. You also get to consult on which option would be the best.
You could also buy online. Amazon is a good place to look. While you may not get to test the skateboard, the numerous product reviews will give you a sense of the quality and efficiency of the skateboard.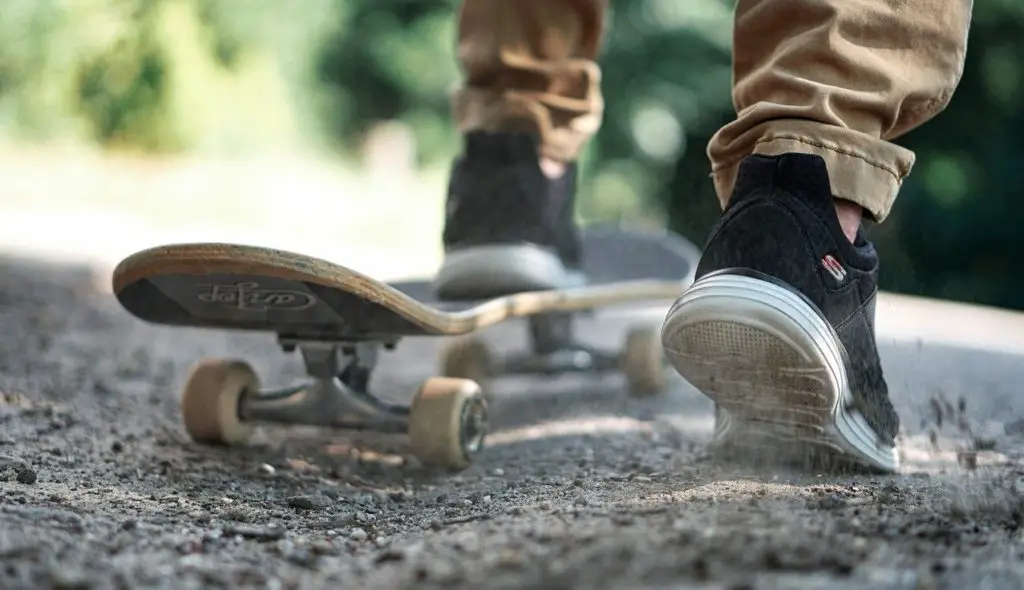 Make Your Purchase
If buying from a local store, carefully inspect the skateboard to ensure the components are in good condition before making the purchase. If purchasing online, choose a brand that offers a money-back guarantee with the option to return or exchange. Check reviews to ascertain that they return or exchange if need be. Once the item is delivered, inspect it carefully for any defects or missing parts so that you have ample time to return if necessary.
Conclusion
Buying your first skateboard can be a daunting task. However, by following the above steps, you will be able to narrow down your many choices to just one or a few options. Remember, you don't have to go for the most expensive skateboard you come across to get a good quality skateboard. Instead, you can find one of decent quality at an affordable price.
The most critical factor is to get the right size. As you get accustomed to skating, you will know which customizations to make, and should you need to buy another one, you will be better informed. Finally, after choosing a good skateboard, make sure you also purchase protective gear like knee pads, elbow pads, and a helmet, so you can stay safe while having fun.