As a longboard rider, you know how cumbersome it can be to carry your skateboard around. A good-quality longboard backpack will definitely make your longboard more portable.
There is a wide range of longboard backpacks on the market, making it daunting to settle for one. This article will discuss the factors to consider when choosing a longboard backpack. In addition, it will offer you tips for taking care of your backpack and answer the top longboarding backpack FAQs.
Factors to Consider When Choosing a Longboard Backpack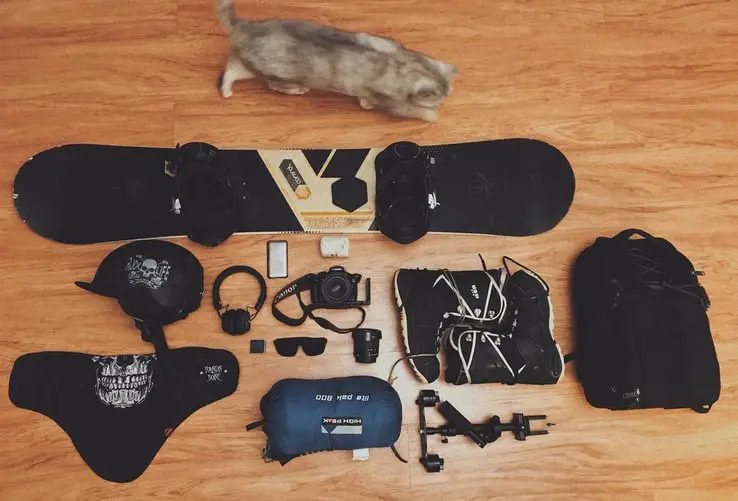 Size
Size is one of the most important factors to consider when choosing a longboard backpack. A longboard is heavy and long and requires ample storage space. Most longboard riders prefer a backpack with adequate space in the main compartment to store their skating accessories, safety gear, and personal belongings while they get to their skateboarding location.
Keep in mind that most longboard backpacks have straps at the back where you tie up the board. Therefore, the backpack does not have to be as tall as the length of the longboard. It only needs to be large enough to adequately bear the weight and length of the longboard.
Also, when evaluating the right size skateboarding backpack to buy, consider the backpack's luggage capacity. For example, how many compartments does it have besides the main compartment? Does it provide ample space for the things you will need to bring along when longboarding?
Smaller longboard backpacks have a capacity of 20-25L, while larger ones have a capacity of 30-40L. A large main compartment and zippered pocket options help you organize your items for easy access. They also optimize the backpack's load capacity.
Do a quick check of the essentials, accessories, and safety gear you bring along, and choose a carry bag that will fit. Avoid buying an extremely big bag as it will be cumbersome to carry while longboarding or walking.
Weight
Ideally, you want a longboard backpack that is strong but lightweight. However, since the longboard is already heavy, you want a bag that will support the board's weight without being significantly heavy.
Board Straps
The board straps are the primary means of attaching your longboard to the backpack. They should be strong, durable, and adjustable. They should also be wide enough to securely hold your skateboard.
Backpack Shoulder Strap Design
Your shoulders bear most of the weight of the longboard and backpack contents when carrying the backpack. Therefore, the backpack you choose must have ergonomic shoulder straps that evenly distribute the bag's weight. Otherwise, your shoulders or back will be overloaded, which could cause long-term back or shoulder pain.
Check that the straps are wide enough and padded to provide comfort when carrying the backpack. They should also be adjustable to allow you to alter the fit when needed. Also, consider the quality of the webbing and stitching.
A sternum strap is good for dispersing the weight of the backboard, making it easier to carry. It also prevents your shoulders from becoming too sore. The tighter you make the sternum strap, the more weight you can displace.
Material
The backpack material influences its durability. The best longboard backpacks are made of 100% polyester. This material is strong yet lightweight. It is also affordable. Some manufacturers double reinforce the bottom of the backpack to improve its strength and luggage capacity.
Back Panel Design
Like the shoulder straps, the back panel should be padded to improve weight distribution.  The padding also provides a comfortable and natural fit for the backpack. A padded backpack panel also maintains the integrity of the shape of the backpack even when it is loaded.
The padded back panel must be breathable. Consider one that has mesh to allow for more circulation, especially for extremely hot days.
Style
The right longboard backpack should fit in with your personal style. The bag should be fashionable because you may decide to use it for other purposes such as going to school or work.
Washability
Inevitably, your backpack will get dirty. Therefore, it is important that it can be washed. Preferably, go for one that is machine washable. At the bare minimum, the backpack should be hand-washable without getting damaged.
Additional Features
Below are some additional features to look for in a longboard backpack.
Velcro at the back. Earlier models of longboard backpacks did not have Velcro. However, more and more manufacturers are incorporating this feature in the design and construction of newer longboard backpacks. Velcro at the back allows the backpack to withstand larger loads, making it more durable.
Waterproof. A waterproof bag ensures that your belongings are safe, even on a rainy day. However, not all longboard backpacks are waterproof. Some are water-resistant. Water-resistant backpacks may not protect your belongings from heavy downpours, but they will keep your items safe from water splashes.
Zippers. As you move around and try new tricks, your bag will toss and turn with your movements. Zippers ensure that the contents of your bag stay intact. Avoid longboard backpacks with buttons instead of zippers as they are not as secure as zippers.
Lock system. Since you carry your backpack on your back, away from your line of vision, a lock system keeps your belongings out of reach from thieves and pickpockets. This gives you peace of mind even when maneuvering crowded places.
Price
The cost of a longboard backpack varies, ranging from $25 to $100. The specific price depends on factors such as the features of the backpack and the brand. Determine the key features you want in your backpack and find one that fits within your budget. Whatever price you choose, always check the backpack's reviews to ascertain that it will deliver great value.
How to Take Care of Your Longboard Backpack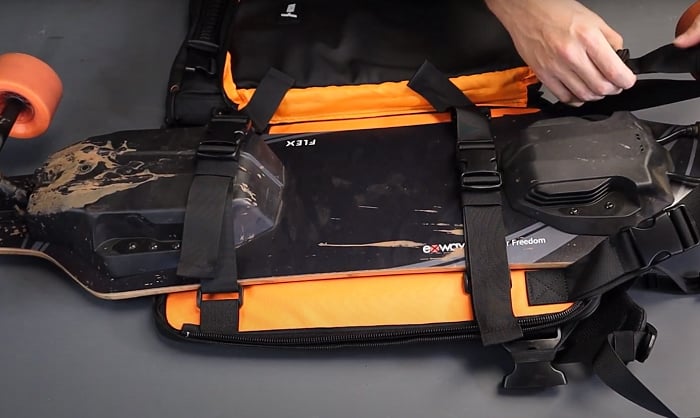 Below are general tips and tricks for caring for your longboard backpack. Check if the manufacturer provides any specific instructions on how to care for your new longboard backpack.
Cleaning
Although a few longboard backpacks are machine washable, most manufacturers recommend against putting your bag in the washer and dryer. It may damage the padded areas or destroy the polyester material. Therefore, it is best to handwash your backpack.
Before cleaning, always empty all the pockets. Then, open all the compartments, turn the backpack upside down, and shake it gently to remove any remaining items and dirt. There are various ways you can handwash your backpack, including spot cleaning and hand brushing.
Spot cleaning is the best option if only a small patch of the backpack is dirty. To clean your bag, add some mild detergent to warm water. Then, dip a small, soft brush in the soapy water and clean the dirty spots.
This method also works for cleaning hard-to-reach parts of the backpack, such as small compartments, zippers, nooks, and corners. Be gentle when cleaning the zippers to avoid removing the water-resistant coating that prevents water from seeping into the bag. Next, rinse the part you just cleaned with a piece of cloth or a sponge that has been dipped in clean water.
On the other hand, hand brushing is the most effective method for cleaning the bag's exterior. Add mild detergent to the water. Dip a soft cloth in the soapy water and wipe every part of the bag's exterior to clean it. This method extends the durability of the backpack instead of submerging it in water and scrubbing it vigorously. Long exposure to detergent may wear out the polyester material, while water exposure may damage the padded sections.
Vacuuming is another convenient and effective method of cleaning your longboard backpack. It removes dirt, dust, and debris.
If something spills in your backpack, leaving it with a foul smell, refresh it by cleaning the bag with white vinegar or spraying it with essential oils. You may also wipe it with disinfecting wipes or leave a dryer sheet in the bag overnight. The dryer sheet will absorb the foul smell. If the smell persists, repeat the process two more nights.
Drying
After cleaning the backpack, hang it in a cool, dry place indoors or under shade outdoors. Do not place it in direct sunlight as the UV rays may degrade the fabric.
Lubricate the Zippers
Lubricate the zippers after every cleaning session to ensure they continue operating smoothly.  You may use WD-40 spray or paraffin.
Inspect for Tears
Regularly inspect the backpack for any signs of wear and tear. You want to catch problems early and not wait until your backpack comes apart in the middle of a ride or trip. Also, pay attention to joint areas of the carry bag as they are more prone to tear and wear.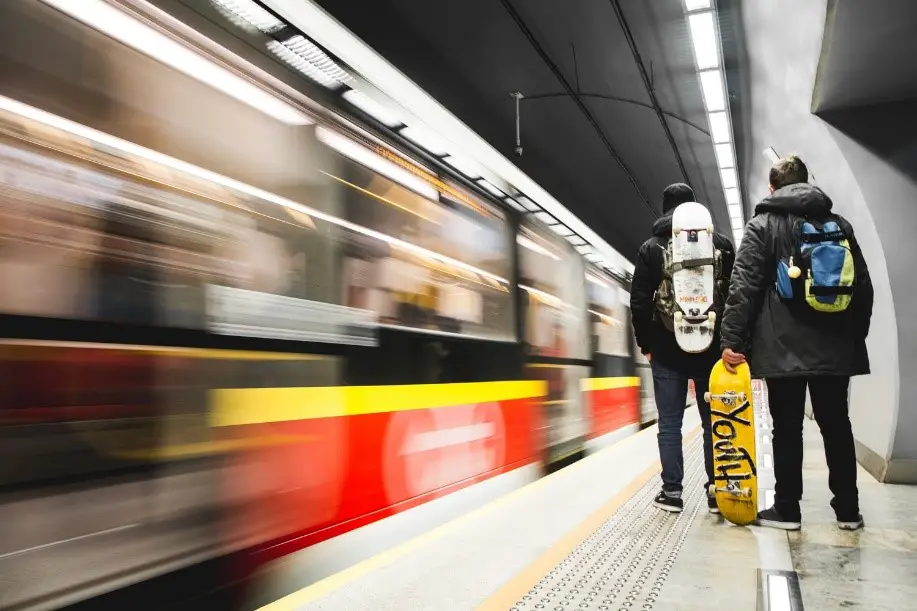 Conclusion
The best longboard backpack is one that suits your needs. It should have adequate space for your everyday carry items. It should be stylish and comfortable to carry. Ultimately, it should be durable and within your budget. With proper care and maintenance, your longboard backpack should serve you for a long time.
Longboard Backpack FAQs
Can I Bring my Longboard Backpack on the Airplane?
Most airlines allow you to bring along certain sports equipment if it is not heavier than 50lb or taller than 62 inches. However, they have specific regulations on whether such equipment will be checked in as carry-on or checked luggage. So, when traveling, check in with the specific airline you are flying with to confirm if you will be allowed to bring along your longboard backpack.
How Do I Attach My Longboard to the Backpack?
The right method to attach your longboard to your backpack depends on whether it has board straps or not. If it has board straps, open them up and lay the longboard on the bag with the deck facing outwards. Next, fasten the straps and adjust them until the longboard is held snugly.
If your bag does not have straps, you will need a lanyard with a hook. Wrap the lanyard around the bag, passing it under the straps and then to the backpack's front. Hook the clip to the lanyard. Lay the longboard on top of the lanyard with the deck facing outwards. Hook the upper pair of wheels on the lanyard, and you are good to go.
Which Are the Best Longboard Backpacks?
Some of the bestselling longboard backpacks on Amazon include:
What is the Difference Between the Shoulder and Sternum Strap?
One of the more defining features of any backpack is going to be the straps. You want thicker and more supportive straps made with dual-density foam or EVA for longer treks. These materials contour to your shape for more comfort. A sternum strap should be fully adjustable and acts as a stabilizer. A sternum strap is also known as a load lifting strap.
What About an Electric Skateboard Backpack?
A longboard backpack should be able to carry an electric skateboard in the same way. The GoRide Electric Skateboard Backpack, for example, has a large main compartment, padded laptop sleeve, extra storage space, and provides a good fit. This GoRide backpack has a universal design that can hold most regular skateboards, mini electric skateboards, and boards up to 44-inches long and up to 24 pounds in weight.