I'm pretty much just getting started in the world of skate photography. I've been sucked into a whirlwind of skate trips. I've figured out most of the technical stuff, but what is really hard is the psychology of the pro skateboarder. As I sit there beneath the rail, I need to know what I can do to make them amped to land their trick.
I asked Scott Pazelt and he said that Michael Burnett once bought him a bucket of chicken to get him stoked. So now I tell the skaters "Land this and I'll buy you a bucket of chicken." I was shooting something of Adam Louder–he got gum on his grip-tape, then he sat down beside me and mumbled despondently "I wish Burnett were here." He then explained that Burnett is so eager to please that he would have changed his grip right away–but unfortunately Michael was nowhere to be found. "I'll do it!" I proclaimed; anything I can do to be more like a real pro-photographer. I changed his grip and he rewarded me by making his trick.
Word soon spread through the Osiris camp that I was ready to learn. Dave Coyne had me bake him some brownies. Chad Knight had me go buy him some cigarettes and a porno.
At the hotel the guys told me that it's usually customary for the photographer to bring everyone's bags up to the room. That seemed a little much, but I didn't want to piss off any of these big-time pros. Besides, they insisted that Michael Burnett does it all the time. It took most of the night, but I gotta get this job done right. I'm glad the skaters are making me feel welcome, and helping a beginner learn the ropes. Let me know if there's anything else I can do.
THIS IS A BRIEF SYNOPSIS OF MY INVOLVEMENT on three different mini-tours; Osiris, Maple, and. 5boro. Each were around a week long.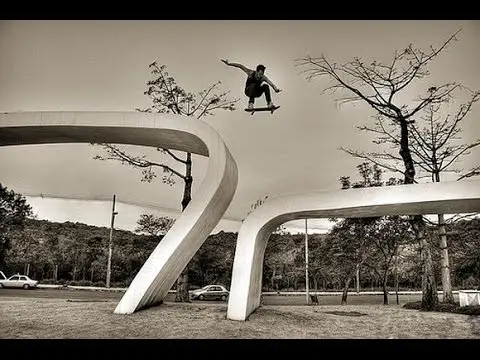 The Osiris trip began with me driving down to Philly; I was called and told to meet the crew at Love Park. Philadelphia is a city of enormous local pride. The NBA playoffs were under way with the Philadelphia 76ers facing the LA Lakers. During game-time the streets were deserted. Every bar, every art gallery, every business of every kind had the TV on. A Lakers tour went by Love Park; every skater ran over to flip them off.
The Osiris team is mostly from California. They like the Lakers–the Philly kids weren't impressed. There are certain rituals one must undertake in order to become welcome in a new city; these rituals were forgone. They asked me how to get to a rail where Brian Wenning had a photo. I didn't know. It's a classic skate dilemma: The locals got their coveted secret spots, and the out-of-towners want to skate them. I needed to some emergency disassociation. Those guys wanted to skate–I blame them–but if word got out that I took them there, I'd get banned from Philly quicker than you can say Corey Duffel.
That night I spent my undeserved per diem on beer and pizza and watched the game at a liquor store called the Cop Shop; I wanted Philly to win just for party value alone. I guess the Osiris crew found the rail; the locals to this day are still tying to find who took them there. Philly's a tough city; you've got to play by their rules to play at all.
New York was the next stop. I met them at the banks where Louder and Dobstaff destroyed the rail. I can't show you the pictures of what they did; its top secret until the video comes out (Code: Camera failure).
A giant tour bus, two vans, a Penske, and 20 skaters/personnel all rolled up to some lame sporting goods store for a poster signing. Only one kid showed up. I was starting to feel like we were the Bad News Bears. It gets worse–our next stop was Woodward, and we got ejected within a couple hours. We were supposed to be there three days, but the pad patrol wasn't having it. I think part of the Woodward experience is getting kicked Out. Ask any pro who has ever been.
>> Different Types Of Skateboards List For Beginners
So one van is hijacked for filming and photo purposes. Here's the offer we made to the skaters: "Ride in the bus if you want a satellite TV, a bed, a kitchen, a bathroom, etc, come with us in the van if you want to go looking for skatespots." Needless to say, we pretty much had an empty van. We went with Dave Coyne to visit his family in Bridgeport, Ohio That was fun; I interviewed his Mom but the only insight I got into how Dave had gotten so weird was that he was into theatre before he started skating. His acting highlight was playing the Mayor of Munchkin City in The Wizard of Oz.
Brandon Turner and Kevin Davis are as close to Beavis and Butt-head as it comes Brandon is a haze of trouble I watched Kevin try to run up a three-foot ramp and he just belly-flopped on the coping. He looked like a long-haired seal flopping around.
Adam Louder is awesome. When I first met him he seemed like this fresh-faced kid, but he looks more haggard every time I see him. It's as if each week of tour ages him six months. By the end he was rockin' a handlebar moustache, a sleeveless Kasperholic shirt, and NASCAR glasses. I told him he looked like a working man's Wade Speyer.
Osiris even seems to have an outreach program; we picked up this starving kid named Devine Calloway–so thin I thought he might die at any second. We gave him some food, some water, and an Elenex t-shirt.
On what was supposed to be my last day I kept asking team manager Pat Simpson, "Do I have a ticket? Am I leaving today?" and was given vague responses. So I grudgingly decided to come to Milwaukee. half way there I get a call from Lisa, the other team manager, pissed as hell telling me my flight left an hour before from Chicago. Oh well, It's not money. I waited stand-by and magically appeared in Boston for a Maple trip.
This wasn't really a tour except for the fact that I was getting money from Maple. Daxter Lussier and Tyler Hanson flew out to stay at Charlie Wilkins' house for a week and I was there to get some pictures. So it wasn't really the whole Maple team either. The main battle on this trip was the West Coasters vs. the rough-ass shit Charlie has to skate every day. Daxter wasn't having it–he didn't like the Boston spots at all–we'd get to something and he'd say it was too rough and charlie would say it was the smoothest spot he had Age and weather=rough.
Tyler doesn't even look like he can skate at all, but he steps it up to gnarly. He also tends to fall hard, I've never felt so much guilt shooting a skate photo of somebody. We gave him money to drink the most disgusting glass of salt Water.
Charlie is one of the most hospitable guys I've ever stayed with He's seriously underrated. Just watching him skate was a treat. Half the things he did were hard to even shoot a photo of. How do you show the cracks, all the crap in the way, the roughness? It's amazing.
Boston, in fact all of New England, has a rich tradition of skating. The young guys learn from the older guys and the older guys learned from the legends.
Even the most tech street kids can grind a pool, and I've even seen Sloppy Sam bust a three-flip. I think I've decided that New England breeds the best skaters in the world; I don't mean like trick best, just all around good-attitude-skating-everything best. Every skater there seems down to have a good time and get their snake session on. A wicked pissah for sure.
Next I was picked up by a van full of smelly dirtbags under the 5boro banner, a 14 seater with at least 14 dudes and one girl already inside. No trunk either. All bags went under the seat or on laps. Did I mention the Pussy Dance Mix? Hoisington had CD full of the most Euro-gay songs ever, At 4 each demo the Pussy Dance Mix played and the locals d looked at us like "with these dudes?"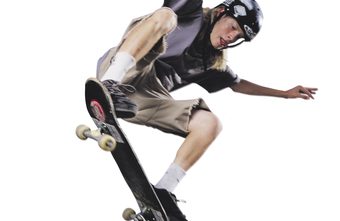 5boro has one of the sickest teams I've ever shot pictures with. Burton Smith however does not ride for 5boro, as was stated in my Skater Island article. I had correctly written that he rides for Zoo York but through some misfortune of editing his name and Emmett Bennet's placing were mixed up. (I needed to clear that up; such mis-associations are not taken lightly here in New York.) Sorry Burton, sorry Emmett. The real riders are too numerous to mention. Although they are all different, they all have the same Skate and Destroy" outlook on skating. We slept on floors there was no per diem, we were cramped in a van, no one was buying lunch, and I didn't hear one complaint out of anyone the whole tour.
Jon Hoisington had a Mohawk. Nick Dompierre was subjected to "flow trash" abuse. Being on flow trash for 5boro is about as low as it gets in skateboarding–he probably gets one board and a t-shirt every six months–but Nick was one of the best skaters on the trip. Suski is the pro. Josh Maready is Mormon, which kind of scared me at first. His claim to fame was a sequence he had in Thrasher awhile back doing a back flip revert at Burnside. That was on my wall. Steve Rodriguez is the owner–mad slappies, tons of power, frontside 360s; you know a ripper. I kept telling him to run some ads; to blow this company up. It's hard to take photos of the unknown guys all the time; we need some new superstars here.
During the last days. most of the Dirtbag Division kept begging me to call Phelps or Riggins to see if I could get them free Thrasher tattoos. They had them all picked out. The tour ended early, and it never happened, but I'm looking into that. The "Free Thrasher Tattoos on Tour" program; who's down?
See more other articles: Best Skateboard Reviews
​