In the village of Elmsford, both skateboarding and Rollerblading are about to be banned for the sake of safety, Mayor Arthur J. DeAngelis said.
For about six months, Mr. DeAnglis said, droves of youths have been wending their way through downtown traffic on best skateboard knee pads and Rollerblades, the skates with wheels lined up one behind the other.
The Mayor said that brakes screeched, startled drivers and pedestrians cursed, and the young people cursed back. "One boy told me to — well, I can't say for print what he told me — when I told him what he was doing was dangerous," Mr. DeAnglis added. Law Unanimously Adopted
Most of the youngsters have congregated in the most heavily trafficked areas of the one-square-mile village, Main Street and Goodwin Avenue. "Sometimes they would even take empty cartons and set them up on the street, so they could jump over them," the Mayor said.
Police efforts to move along the youngsters have met with varying degrees of success. Police Officer Desmond Hurns said last week that any time he asked someone to stop, they did so. But the Mayor and other village officials have pressed for stronger steps.
The five-member Village Board, which includes the Mayor, met in the spring to discuss the problem, and a public hearing was attended by about 30 people. This month the Village Board unanimously passed a law forbidding the use of skateboards or Rollerblades on public or municipal property. It is expected to take effect within a few weeks, after a review by the State Department of Law.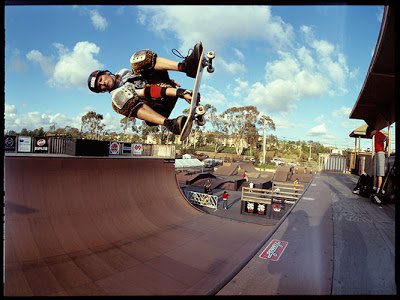 James Carrea Jr., 12 years old, said of the new law: "I think it stinks. I know they think we can get hurt on the street, but that's all part of it. On the street you can do a lot more tricks than on the sidewalk." In the past, James added, "the police would first warn you, then if you didn't stop, they'd take your skateboard to police headquarters and you'd have to go down there with your parents and pick it up."
James's father, James Carrea Sr., said he believes the corner of Main Street and Goodwin Avenue was "definitely not a safe place for kids to be doing this." He added that he understands the need for some kind of regulations but feels a fine as large as $500 is too high.
"I can understand the concerns about safety," he said. "And I understand that some of the business people on that corner probably were upset" with skateboarding and Rollerblading in the street, "but you can't please everybody all the time. You've got to think of the kids, too."
Mr. DeAnglis said: "We offered the kids a part of DeLuca Park, in the village, for an area in which they could skateboard and Rollerblade. We told them we would put in lights and somebody to supervise them. They said, no thanks. So now we'll see how this law works. We have to have some control."
See more: https://skateszone.com/vans-pee-wees-skateboarding-mission/